HOMES FOR SALE
H43 MASON HALL
BACK TO NATURE - 9 ACRES OF PRIVACY AND SECLUSION!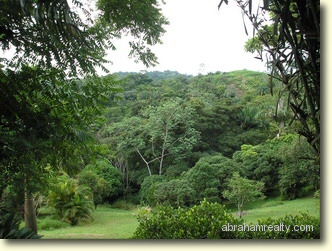 For those who value complete privacy and seclusion and the desire to get back to nature, away from the hustle and bustle of everyday living, this unique cottage nestled in the lush hills of Mason Hall is the ideal property for you!
Approximately 45-minutes drive to shops, groceries, beaches and the Airport.
This cozy "eco" cottage was built 4 years ago. Water is collected from the rain and stored in tanks for drinking and bathing and candles or lanterns supply light in the evening. There is no electricity but a generator can be purchased if required.
A large variety of fruits trees and vegetables are grown on the property and the beautiful sound of birds and surrounding nature is extremely relaxing.
Features:
1 Bedroom
1 Bathroom (septic tank)
Living room
Kitchen
Covered Verandah
Clay tile floors
Water tanks
House size: 1000 s.f.
Lot size: 9 acres
Freehold land
A truly unique property!
PRICE: WAS TT$3.5M NOW US$295,000/TT$1.98M

Temporarily off the market